In February Keene Krib purchased a medium sized Piling Rig that is at home in the varied ground conditions of Wellington. A machine designed for sites where access or confined headroom are a limiting factor. The mast can be shortened and a smaller Kelly bar fitted enabling work in a low headroom of just 3.8metres drilling to a maximum depth of 12 meters.
Its moderate size allows for easy transportation and use on the job site.
Key Statistics of the drill are:
Hole diameter 400-900mm
Maximum depth 22 meters
Working width 2.25 meters
Working length 4.53 meters
Working height varies 3.8-7.2 meters
Torque 3.5 tonne/meter
We have recently successfully completed several projects where the piles were 13.5 meters deep with a diameter of 600mm, the ground conditions where difficult with liquefiable sands and clays, water flowing in large volumes.
All aspects of this work were challenging, casing was installed to varying depths, the deepest being 11m, the drill performed beyond expectations, auguring and cleaning at final depths is quick and efficient, it is equipped with its own crane for lifting cases and reinforcing cages into place.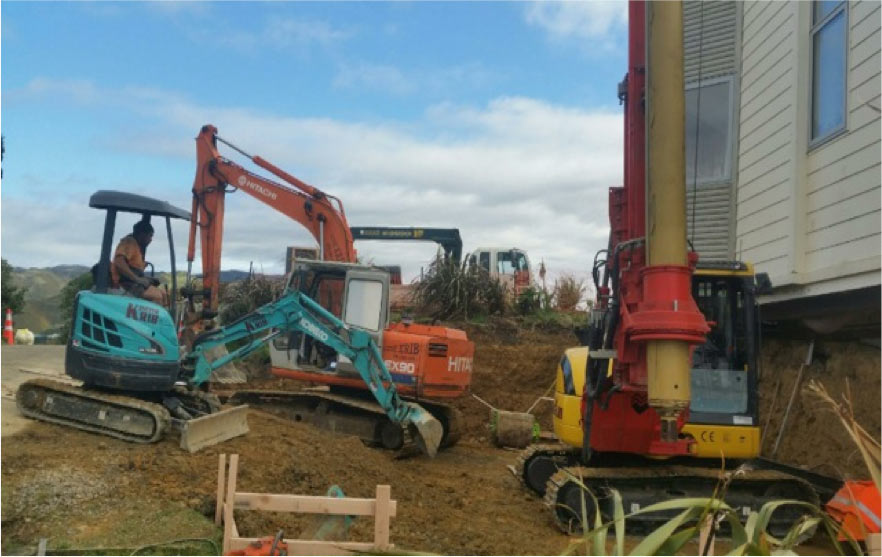 Do you have a project that this piece of equipment should be used for? Please contact us on (027) 44 33 625 or email Stewart Keene, This email address is being protected from spambots. You need JavaScript enabled to view it..
Or alternatively please call to arrange a tour of our workshop and equipment available to complete your drilling or anchoring projects.